The Assam Chief Minister inagurated a war memorial at Dighalipukhuri in Guwahati. The memorial is home to a MiG-27ML fighter bomber, a veteran of the Kargil Operations.
On 15th August 2016, the Chief Minister of Assam, Sarbananda Sonawal, inaugurated the Assam State War Memorial at Dighalipukhuri area of Guwahati. The War Memorial depicts the 1671 Battle of Saraighat, and other major wars in Assam, honoring martyrs and heroes of the land. The memorial is an initiative of Rajya Sainik Board, and the main visualizer of the project is Air Commodore K.C. Choudhury. The memorial had its fair share of controversy regarding conservation issues. Ultimately the courts allowed it to be built.
On display at the memorial is a MiG-27 ML (Serial TS522) . The aircraft arrived by road in January 2016, at which time it sported the faded camo colours of the desert. By the time it was spruced up for display it has received a coat of silver paint, an incorrect "Indian Flag" fin flash.
The MiG-27 does duty along with a Vijayanta tank – that used to exist at this location for a while. The Vijayanta lost its original scheme and got painted with a fantasy scheme as well.
A tip of the hat for Dipalay Dey for informing us of this warbird.
The finished product – MiG-27ML TS522 on display on a platform. The painting of the indian flag on the fin indicates that the team who completed it had no clue about Indian Air Force markings.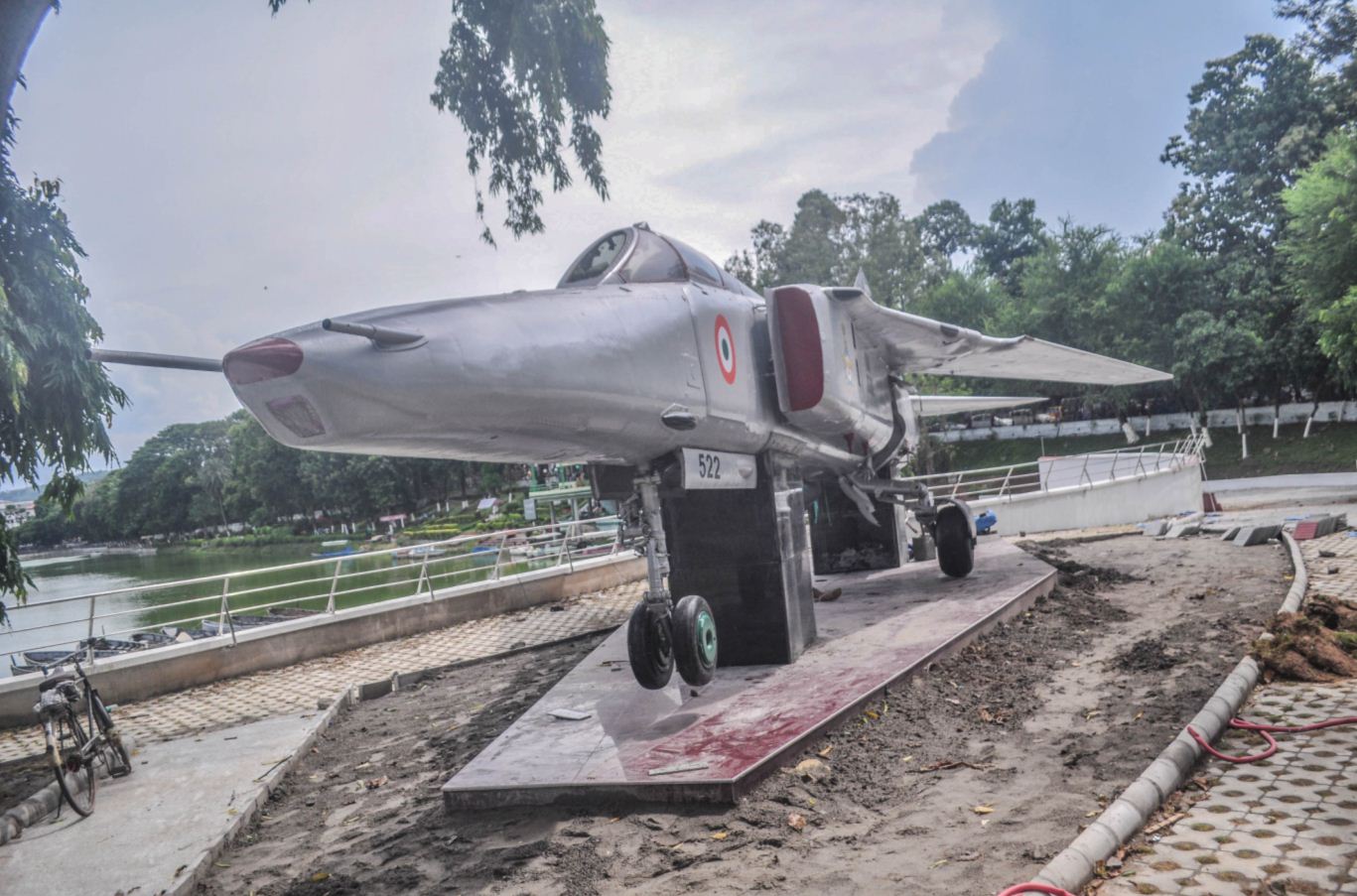 Another view of the display aircraft.
TS-522 seen in its original three tone camoflage scheme when it was stored at the location prior to its installation and repainting
The Chief Minister of Assam on the unveiling day of the War memorial
---
Photo Courtesy: http://www.nelive.in/photo/north-east/news/photo-gallery-august-02
Other Links: