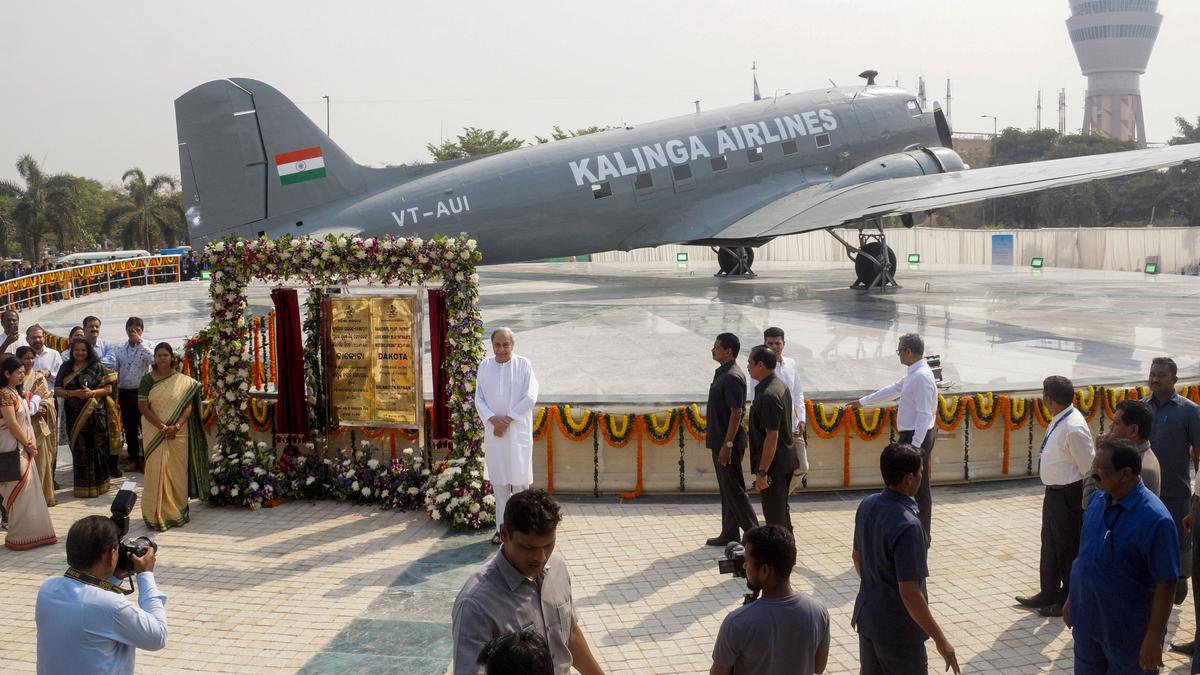 On March 5th, 2023, Chief Minister of Odisha state, Shri Naveen Patnaik unveiled a preserved Dakota for public viewing at the Biju Patnaik Airport at Bhubaneswar. The Dakota was rescued from the brink of extinction by the state government, prompted by well-intentioned officials of the government.
The Dakota was VT-AUI, which was languishing for years at the Netaji Subhash Chandra Bose airport in Kolkata, India.
Back in 2009, a photograph appeared on Flickr.com that alerted us to the presence of this derelict DC-3/C-47 Dakota stored at the Kolkatta international airport.
However, sometime in the mid-2010s, some amateur historians started theorizing that this Dakota was operated by Kalinga airways and was flown by none other than the legendary Biju Patnaik, former chief minister of Orissa who found and operated Kalinga airlines for the better part of three decades.
That fact, however, is not substantiated by known records. A look at existing DGCA records shows that VT-AUI started its life as a USAF Dakota 42-93331, inducted into service with Mistri Airways. Later it went to Indian Overseas Airlines, Nalanda Airways, Airways India and finally to Air Survey Co of India where it languished in Calcutta for decades.
And to confirm the fact that Kalinga had nothing to do is in the research carried out by Maurice Wickstead, who published an article on India's civil airlines. In the article published in 2005 in Aviation World Magazine, Wickstead quotes that the Dakotas that served with Kalinga were VT-CRA, VT-CGB, VT-CNZ, VT-COA, VT-CYF, VT-CYW, VT-DAY, VT-DAZ, VT-DDR, VT-DFM and VT-DFN. No "A" series Dakotas were owned by Kalinga.
There was at least one ex-Kalinga Dakota that survived till the early 2010s, that was Dakota VT-CRA at the Sahar international airport in Mumbai. This Dakota unfortunately did not survive the airport expansion in the 2000s and its current whereabouts are unknown.
There was little paperwork that existed that proved that VT-AUI was operated by Kalinga or was flown by the late Biju Patnaik personally – his logbooks etc are not available for reference.
This did not stop the fervour behind the theory and many citizens of Odisha were swept away in the legend. The rumour was started a few years ago and it caught fire enough to motivate the Odisha government to look into it.
This resulted in the positive outcome was that VT-AUI was requested for preservation by the government of Odisha. And they were ultimately successful. According to the Hindu "The Dakota aircraft, which was lying in neglect in Netaji Subhas Chandra Bose International Airport, Kolkata was transported to Bhubaneswar on January 1. About Rs 75 lakh was spent for dismantling and transportation of the aircraft."
Interestingly, the tweet by the official Twitter handle of Chief Minister Naveen Patnaik stops short of attributing any direct connection to the late Biju. It very rightly points out that this aircraft is a tribute to Biju Patnaik and his contributions, but never states that this was personally flown by him. Perhaps the Chief Minister knows more than the rest of the people from Odisha!
Be that as it may, if it had not been for the people involved, this Dakota was surely headed for an ignominious end – thankfully it will last for years to come in Bhubaneswar.
---