After its 'discovery' by Google Earth imagery in 2014, the first clear image of the Sarasawa Curtis C-46 Commando emerges..
For years, we have heard rumours of a Curtis C-46 Commando preserved in one of the hush-hush airfields used by the Aviation Research Center – the air wing of the Research and Analysis Wing. The most likely location was believed to have been Charbatia near Cuttack, but the Google Earth maps failed to confirm it.
Turns out that a C-46 Commando indeed exists today – the first one reported and the only one in India – and it was right under our noses – previously reported as a C-47 Dakota preserved at Air Force Station Sarasawa.
AFS Sarasawa is today referred to as No.30 Wing of the IAF, and houses two Helicopter units. The north western part of the airfield appeared suspicously well developed – a far cry from the sparsely developed areas of other newly raised wings. This portion of the airfield features basket ball courts, parks, and in the middle of which is a nicely preserved twin engined transport aircraft.
While this aircraft was reported as a Dakota previously, we never batted an eyelid. but recently while looking at other aspect, the Dakota didnt look quite right to us. The familiar sweepback of the wings was missing and a further measurement with a distance tool seemed to point in only one direction – this was not a Dakota – but a Curtis C-46 Commando!
The Commando has a 108 feet wingspan and the measurements seem to confirm that.
Now the presence of this Commando was previously reported to the IAF as a Dakota and they probably never did a double take on this. Perhaps they will move this to Delhi? Provided the Ministry of External Affairs, the original owners allow it to be moved!
Update 18 October 2015:
Aditya Gupta posted an interesting photograph sourced from the DefenceForumIndia's discussion board that shows this aircraft in the background.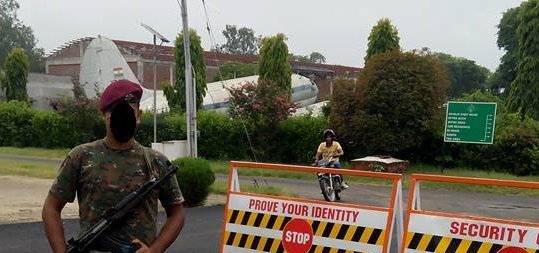 A photograph of a Para Commando at an 'undisclosed' location shows the C-46 in the background, in Civilian ARC colours. Though the location is not stated, it is obvious based on Google Earth Imagery that the original image was taken at Sarasawa
The aircraft seems to be painted in the civilian markings with the Indian flag on its tail instead of the fin flash.
Update 23 June 2022
The identity of the Sarasawa C-46 is now known. As seen in the photograph below, the aircraft is VT-DRN. This Curtiss C-46 Commando with construction number 33279 and USAF Serial 44-77883 was registered in the name of Govt of India, Min of External Affairs. Likely around 1963 or 64.